08 September 2020
|
This year marks the 80th Anniversary of the Battle of Britain. Paul Lumsdon gives us a personal account of some of his favourite diecast models, commemorating the most defining aerial conflict of all time.
The year 1968 was a memorable one for me (for good and bad reasons). I turned 10 in April and so chalked up my first decade on this planet. Just two days later the celebrations were abruptly halted when I tripped in the garden and fell, breaking my right arm. After 10 days in hospital, I returned home, and after a suitable period of recuperation returned to school, where my plaster cast set me aside as a bit of a celebrity – with chums all keen to sign the cast.
As if this wasn't memorable enough, in 1968 I also remember very clearly the first time I was transfixed by something that was to become the start of a lifelong passion for all things aviation related. Walking home from school one afternoon, the sun was shining, and we were full of the joys of getting home to complete homework. Then suddenly my friends and I were aware of a deep rumble, it strengthened to become a loud pulsating drone, then we saw it. Up in the sky was a scene that completely transfixed me. Spitfires, Hurricanes, Messerschmitts and Heinkels - there must have been close to 20 aircraft, all in close formation, heading north from London towards the Essex countryside. We watched in total awe – it felt like the ground itself was vibrating with the noise and I had certainly never seen anything like it – until they disappeared out of sight over Chingford's suburban horizon. I rushed home to excitedly tell my parents of this incredible scene. It turned out my dad had also watched it from the garden, and he explained that it was part of the filming of a new feature film to be called The Battle of Britain. That was it. I couldn't wait to see the film. It wasn't the only time we saw aircraft during the filming, but the first sighting was the most impressive.
Over the course of the next few months I read books about the history of the battle and built Airfix kits of most of the aircraft involved. It was all to keep me busy until the launch of the film that eventually appeared the following year, in September 1969. The film may have had its critics, but to an eleven-year-old lad it was magnificent, and to be fair I still enjoy watching it to this day, especially the flying sequences, which were superbly filmed!
The Battle of Britain in diecast
A month later, in October 1969, my diecast adventure with aviation models began in earnest and it was all down to The Battle of Britain – the adventure has continued ever since. Now here I am, in 2020, on the eve of the 80th anniversary of the conflict, with the opportunity to reflect on some of my favourite models that commemorate the Battle of Britain, and the brave pilots, mostly young lads at the time, who courageously fought (on both sides) in one of the most defining aerial battles of all time. This is not a definitive review by any means, but rather a broad look at a wide range of models, small, large, cheap and more expensive, that will hopefully appeal to collectors and enthusiasts alike.
Dinky Toys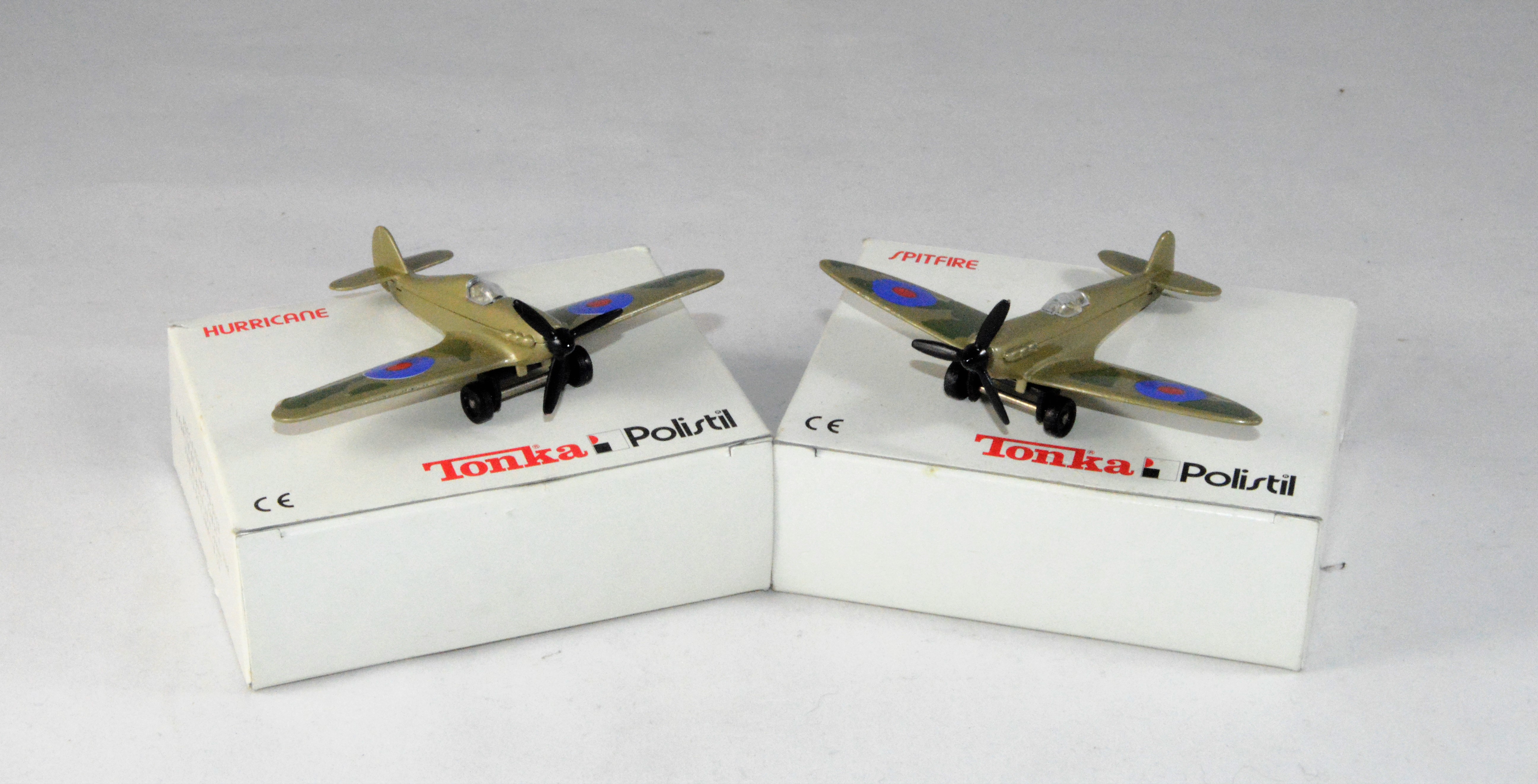 October 1969 saw Meccano Magazine boldy proclaim "Win the Battle of Britain with Dinky Toys". In a licensing deal with the film production company, Dinky offered two new aircraft models, a Spitfire MkII and a JU87B Stuka, both boxed in colourful, branded packs with scenes from the film depicted. I was first in the queue for both (as soon as pocket money had been saved up of course).
Dinky's No 719 Spitfire MkII was released in October 1969, ran in special Battle of Britain packaging until 1972, and thereafter in non-film branded packaging until 1978. Produced in 1/65 scale, the model has a wingspan of just under seven inches and features retractable undercarriage and a battery-operated spinning propeller, as well as a realistic clear moulded cockpit canopy, the correct 3-stub brown plastic moulded exhaust pipes and radio aerial. An intriguing innovation with the motor was the unusual use of a 2-pole type (rather than the more usual 3-pole or 5-pole). This meant that no switch was required, and the motor was started simply by flipping the propeller.
Camouflage was in the correct dark earth/dark green patches on upper surfaces and duck egg green undersurfaces. Full colour paper roundels were pre-applied to wings and identification letters were customer stickered in the appropriate places on the fuselage to complete a very nice model. A near mint boxed example with unapplied sticker sheet and instructions will be £100 plus at auction.
No 741 Spitfire MkII was released in 1978 and was essentially the same as the 719 casting but with the motorised propeller removed. It remained in production until the factory closure in November 1979. Expect to pay around £50 for a good boxed example.
Probably the most unusual of the Dinky Spitfires is No 700 Spitfire MkII RAF Diamond Jubilee. Planned for 1978, it did not appear until 1979. It comprised the 741 casting in a chrome plated finish, mounted on an imitation Onyx stand and packed in a special blue box with clear cover. It makes an attractive display piece and you will probably pay around £90 for a good one at auction.
No 721 Junkers Ju87B Stuka was first released in 1969 and remained in production until the factory closed at the end of 1979. Although at 1/72 it was to a smaller scale than the Spitfire, the Stuka still had a wingspan of 7½ inches and featured clear cockpit glazing and a moulded (manual) rotating plastic propeller. The real play value with the Stuka lay with the bomb. This was attached under the fuselage and could be dropped by pressing a release button on the fuselage. For added realism you could fit a cap (remember caps?) in the front of the bomb so that as it was released it would 'explode' on contact with its target – great fun!
Like the Spitfire, casting detail was pretty good, as was the paint finish in overall green with pale blue under surfaces and yellow cowl and rudder. Again, the paper wing crosses were pre-applied, whilst the identification letters were self-applied stickers.
Special Battle of Britain packaging was used until around 1972 and these are the most valued to collectors so be prepared for £100 plus at auction.
Tonka Polistil
Tonka Polistil of Italy produced toy versions of a Battle of Britain Spitfire and Hurricane in 1983 as part of a Kelloggs aircraft promotion. They were almost identical to Matchbox Sky Busters and are often confused with these. Indeed, Matchbox was the main supplier of models for the Kelloggs promotion, but for some reason declined to supply the Spitfire and Hurricane, even though a Sky Busters Spitfire existed. Tonka Polistil stepped up to the mark and tooled these two aircraft in an almost identical fashion to the Matchbox models, and with no identification engraving whatsoever. The key to telling them apart, other than the engraving on the Sky Busters Spitfire, is that crucially the Matchbox Spitfire has the later six-stack exhausts, whereas the Tonka Polistil model has the three-stack exhausts and underwing air-scoops, correct for the Battle of Britain period MkI and MkII Spitfires.
The Tonka Polistil Spitfire and Hurricane are both solid, simple models, well painted and decorated with high quality stickers. These are not highly detailed models, they are toys. However, they are diecast toys that are now nearly forty years old and they do have the overall feel/look of a Spitfire and a Hurricane. As such, I feel they have a place in a collection and let's face it, we all have to start somewhere. At between £3 to £5 each in mint, boxed condition these are not going to break the bank either!

Corgi and Lledo enter the fray for the 50th anniversary
Both Corgi and Lledo identified the 50th Anniversary of the Battle of Britain as a hugely significant event to commemorate but it threw up a major problem. At this time the diecast collectables market revolved largely around wheeled vehicles. Neither company had yet discovered the collectable diecast aeroplane market, but they were not about to let such a minor point of detail put them off!
Corgi's D35/1 Battle of Britain 50th Anniversary Commemorative Set comprised a Morris 100 Van, Ford Zephyr MkII Saloon and Bedford OB coach. Of these only the Bedford OB was designed pre-war, although only a small number were actually produced before the war. So, whilst they are described as authentic, we have to assume these were based on post-war RAF ground support vehicles.
The packaging is attractive and features a photograph of a Spitfire with crew in full colour. Sadly, it is actually a photo of a MkV Spitfire in grey/green camouflage scheme so also out of period for the Battle of Britain. This set is very much of its day, it is nicely presented and of good quality, if you can live with the artistic license that may have been employed with the models. The certificate declares a limited edition of 13,000 sets so unsurprisingly you will still find these available for not a lot of money. £15 to £20 should get you a near mint example.
Like Corgi, Lledo's Days Gone BB1003 and BBL1003 RAF Battle of Britain Ground Crew Support Sets used a considerable degree of artistic license. They were however all based on real liveries and the models all looked quite plausible, finished in an attractive satin RAF blue colour. There were two sets, both comprising three models with one limited edition and the other unlimited. At the time this made a significant difference to the desirability and the limited set became quite difficult to find.
Sadly, since the heyday of Lledo, the market has been flooded with Days Gone models and prices have dropped. If you hunt around the regular set can be found for £5 to £10, whereas the limited is slightly more desirable at £10 to £15
Content continues after advertisements

Corgi Aviation Archive
Corgi took a major gamble in 2000, with the launch of 1/72 scale World War II fighter aircraft as part of its recently established Aviation Archive category. The catalyst for this game-changing range was The Battle of Britain 60th Anniversary that year and, not surprisingl,y the new range included the Spitfire MkI/MkII, Hurricane MkI and Messerschmitt Bf109e.
With a nod to the toy aircraft of the past, the models featured a removeable engine cowl to reveal fairly basic engine detail. This actually proved unpopular with the new breed of collectors as the panel lines spoilt an otherwise accurate outline and it was seen as a gimmick. On the plus side, Corgi also introduced the concept of interchangeable retracted and deployed undercarriage parts, which, although fiddly, was liked and has become the norm to this day.
Authenticity was key, and famous names like Douglas Bader and Stanford Tuck featured for the RAF planes, whilst Adolf Galland and Hans von Hahn piloted the Bf109s. In a distinct nod to Airfix kits, there was even an authentic 'dog-fight double' set of a Spitfire and Bf109 that actually duelled during the battle.
The models were a huge success and set the standard for an entirely new diecast collecting category that grew quickly, attracted several other manufacturers and remains popular to this day.
The year 2002 saw the introduction of the famous Junkers Ju87B 'Stuka' in Battle of Britain guise, and this was followed in 2003 by another well known German bomber, the Heinkel He111. Both were modelled in 1/72 scale.
However, the big news (literally) of 2002 was the launch of a Spitfire MkI/MkII tooling in 1/32 scale. In my opinion, this stands to this day as one of the best models Corgi has produced in the Aviation Archive range. It once again set new standards in detail and accuracy. The model features removable engine panels to reveal a really well-detailed Rolls-Royce Merlin engine. There are moveable control surfaces, retracting undercarriage, opening radio access panel, sliding cockpit and opening door revealing a well sculpted and painted pilot figure, removable gun panels on the wings, moving radiator flaps and a rotating propeller. With a wingspan of 350mm this is a really impressive piece of diecast and well worth adding to your collection. A really good, 19 Sqn, Squadron Leader Brian Lane 'Battle Scarred' version (AA33902) from 2002 will cost around £120 to £140
The 1/32 scale version of the Hurricane MkI and MkII arrived in 2006. This model included all the features and detail of Corgi's large-scale Spitfire, but to the discerning collector it was something of a disappointment. It somehow failed to capture the look of the Hurricane in the same way as the smaller 1/72 scale version. Nevertheless, it is still quite an impressive model and the obvious choice for a Battle of Britain machine would be Douglas Bader's 242 Sqn (AA35505) from 2006 and will cost around £100 to £140 in very good to mint condition.
The same year also saw the first appearance in 1/72 scale of the Junkers Ju88 bomber. It was however 2008 before Corgi launched a Battle of Britain version and this was a calculated gamble. The reason being the wing tooling was not quite right for a Battle of Britain Ju88 A-1. Corgi's model represented the A-4 variant but, as there was no other diecast model available, the decision to go ahead was taken. The model became highly sought after although prices look to have settled in recent years and I have seen these sell for as little as £60 in recent times.
In 2009 there was the introduction of two of the forgotten heroes of the Battle of Britain, namely the Gloster Gladiator and Bristol Blenheim. The second Gladiator release (AA36202) was actually an 804 NAS Fleet Air Arm aircraft that operated out of Orkney and was involved in the protection of Scapa Flow during the battle. It is well worth seeking out as a more unusual release and can be bought for £30 to £40 brand new. The first two Blenheim releases were also participants, one being a MkIV light bomber, whilst the other was a 1F Night Fighter. These are both really well-presented models and can still be found for around £60 to £80 in as new condition.
For me, Corgi's 2010 Battle of Britain 70th Anniversary range represented the pinnacle of its commemorative collections with no fewer than six releases. Significant new tooling was introduced not least with the introduction of a brand-new Spitfire MkI, using CAD design for enhanced detail and accuracy. It had long been felt that the original Corgi Spitfire mould was looking tired and this new release embraced latest technology to further raise the bar in terms of quality. Another forgotten hero, The Bolton-Paul Defiant was the other excellent new tool choice. Like the Blenheim, the Defiant was already outdated when the war began, but both types saw some success in the night fighter roles they adopted. Further Battle of Britain versions of the Hurricane, Bf110C and Do215 completed the 1/72 range but the best of all was the 1/32 scale Spitfire MkIa of 234 Sqn, piloted by Pilot Officer Bob Doe. Sadly, Bob passed away in February 2010 and he never saw the release of this model which stands as a fitting tribute to his wartime contribution. Bob's Spitfire ranges in price from £150 to £200 in as new condition.
The arrival of a new Hurricane in 2015, also tooled using new technology, neatly coincided with the Battle of Britain 75th anniversary. Clearly the new model is better but, whereas the new Spitfire was streets ahead of its predecessor, the old Hurricane was actually a pretty good model and with the exception of the lack of removable engine cowling, the new casting offers only marginal improvements. In fact, the rudder horn balance was missing from the first two releases due to an error in the tooling. This was later corrected by tampo printing in the missing line.
Similar can be said of the 1/72 scale Bf109E released in 2017, a nice model but not perfect. The original had its faults, but so too does the new, high-tech, version. The overall shape is now better, and the undercarriage is much improved so there are significant positives. Possibly the biggest deciding factor for both Hurricane and Messerschmitt is the price tag. The new versions retail at around £30 to £50 whereas the old ones are available for between £15 and £25 in as new condition.
For the 80th Anniversary Corgi has a rather nice looking 1/72 scale Gloster Gladiator in 247 Sqn markings based at Roborough, near Plymouth. Due this autumn, it has a RRP of £49.99.
Corgi Showcase
I feel the Corgi Showcase models are worth a mention because they are similar in size to the Tonka Polistil examples but could not be more different in terms of detail and quality. First released in 2003 as a 'fit the box' non-scale range aimed at younger collectors, the Showcase range covered The Battle of Britain in both single models and sets. These are all lovely models for the size and price and really do capture the look of the planes.
To my mind one of the best value collections is the 4-piece Battle of Britain set (CSFS05004) from 2003, which comprises a Spitfire, Hurricane, Bf109E and Ju87B Stuka. These can be bought for around £15 to £20. For comparison Corgi produced a 3-piece set (CS90691) for the 75th anniversary in 2015 comprising a Spitfire, Hurricane and Bf109E. This retails for around £25.
Oxford Diecast
Oxford Aviation produced a rather attractive set for the 70th Anniversary of The Battle of Britain in 2010, and indeed re-released it for the 75th Anniversary in 2015. It was a three-piece collection comprising a Spitfire, Hurricane and a Gloster Gladiator.
The models are all 1/72 Scale and nicely presented in a full-colour pack with concise histories of each machine on the inner lid. The painting and decoration are good, albeit with slight differences in the camouflage colours between aircraft (probably quite realistic in fact) and the markings and codes are well printed. Originally released in Oxford's budget Aviation range, the models lack finer details and the undercarriage is fixed down. However, the price reflects this, and they certainly do represent extremely good value for money. The 75th Anniversary set is still listed as available on the Oxford website at the RRP of £36.95 (72SET01A). The 70th set can be quite easily obtained for between £25 to £30 in mint, unused condition.

And There's More…
If, like me you share an interest in aviation and the Battle of Britain in particular, then you might be interested in a brand new and very special publication from Warner's. This is a unique collectors' magazine to mark the 80th Anniversary, and with only a handful of the brave pilots who flew in the conflict still with us, it is likely to be last official memorial of its kind. To mark this momentous event Warner's have produced a unique and stunning 164-page high-quality collectors magazine showcasing the work of colourisation artist Richard Molloy and telling the story of the Battle of Britain through colourised images from the period.
This unique magazine will be a must buy for aficionados of the Battle and also collectors of militaria from the period. Nothing like this has ever been produced before! For full details click here.
To support the Royal British Legion or to view our full commemorative Remembrance Day page featuring other articles which you may be interested in, click here.